If you have any questions, please feel free to contact us via email at orders@irvineprinting.com or by calling us at 1-949.222.2210. Ask us how our Valued Customer Program can get you amazing discounts and even free business cards!
You can call us at 949.222.2210 from 8:30am to 6:00pm PST Monday through Friday. Pick up time 9:00am to 6:00pm PST Monday through Friday.
A thicker paper stock than 12-point that is commonly used for printing high-quality postcards and notecards. C2S refers to paper that has been "coated two sides ", C1S refers to coated one side only.
AQ Coating is short for "Aqueous Coating." it is a clear coating, in a water base and applied like ink by a printing press, is applied to the entire surface and used to protect and enhance the printing underneath. It provides a light luster to the printed product, speeds up drying time.
UV Coating is short for "Ultra-violet Coating." It is a clear coating, a liquid applied to a printed sheet, is bonded and cured with ultraviolet light. This form of coating is thicker than normal varnishes and provides an attractive, high gloss appearance to the printing. UV is not applied to the mailing side of the postcards because it is problematic for postage & inkjet printing to be applied.
Yes, you can. If you need to produce 1 or 2-color business stationaries or other products using spot inks, you can email the specs for quote."
No. All our prices include full bleeds free of charge.
To keep things simple, please place a separate order for each different printed piece you want to be produced. So there will be no confusion.
At Irvine Printing, we use standard ICC color profile to print which comes out "pleasing color". Therefore, there is no guarantee that your finished piece will approximate your printed sample. Even from one commercial printing firm to another, there can be significant differences in results. In particular, inkjet and laser prints are known to look substantially different than true offset lithography.
Most jobs will be shipped within 4 business days after you approve your proof online. Please check the specific product ordering page for available turnaround times. Shipping by UPS takes from 1 to 5 business days to get to you depending on your location.
Our standard service is quite fast. For most products, we ship your order within 4 days after you approve your proof online, via UPS Ground. In most parts of the country, that means you will have your order in about 6-10 days. If you want to receive your order faster, select one of our faster handling options or upgraded shipping options when you place your order.
Our online shipping prices are valid within the continental United States. We are also happy to ship to you anywhere around the world. Please provide us the exact shipping address (street address if available), along with the quantity and product type you want to order, and we will let you know the additional shipping costs.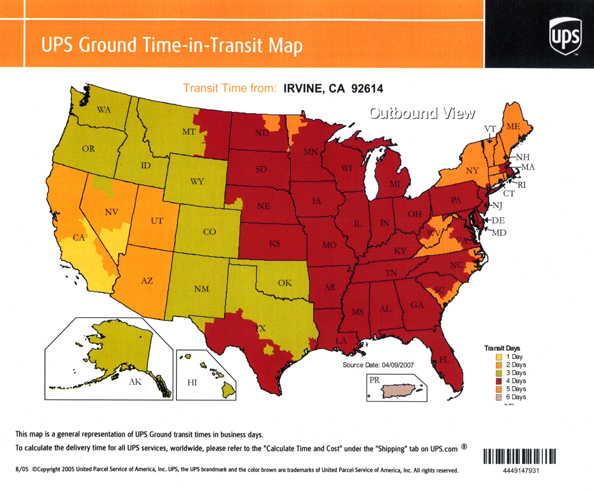 Due to the high amount of orders we receive, occasionally some orders may experience delays. Simply email us at email or call us to rectify the situation. Irvine Printing will gladly issue a credit towards a future order.
We primarily use UPS for standard ground shipments. You can view UPS website with the tracking Number emailed to you at this web page: www.ups.com
Our preferred file format is ADOBE PDF, But you may also sent us any Mac or PC version of .EPS, .PDF, .PS, .PSD, .TIF, .JPEG
All the files created in Photoshop must be a flattened image & all Illustrator files, fonts must be outlines. For the PDF formats, fonts must be embedded & Images must be included. Prices include processing one set of uploaded files and creating a single digital proof.
Before creating outlines, please remember that once you create outlines you will not be able to edit your text. Make final revisions before creating outlines.
Please follow these steps to create outlines of text:
Open your .eps or .ai file in Adobe Illustrator®
Make sure that all layers and sub layers are unlocked and visible
Go to "Select" > "All"
Go to the file menu "Type" > "Create Outlines"
"File" > "Save"
Please save your doc or Publisher file(s) as a PDF, then email us for adjustments. We suggest downloading the program, Adobe Acrobat or a PDF distiller to do this. Saving the doc files as PDFs enables us to view the file exactly how you designed it. Your layout, images, and fonts are embedded in the file. To save the files as a PDF simply go to FILE, then scroll down to EXPORT AS PDF, or SAVE TO PDF. Name the file, and email the PDF as an attachment to orders@irvineprinting.com to be adjusted for upload. We will adjust the file, then email you a proof by the next business day for your approval.
Most people are surprised at how well their job matches what they see. But because of wide differences in monitor calibration and the different technologies used, some printed colors may not exactly match the colors on your specific monitor. We do our best to make your job look good.
RGB refers to the Red, Green and Blue, that are used in monitors. CMYK refers to Cyan, Magenta, Yellow, and Black. These are the inks used on the press in "4-color process printing", commonly referred to as "full color printing". RGB color are more vibrant & having high gamait.
1/8 inch is the correct amount.
No, send us a single layout of your job, we will handle any imposition needed on our end.
It is very important to make sure that the camera is set to the highest quality setting possible.
Open image in photoshop go to image > Image size > it will tell you correct resolution. It should be 300 DPI or higher. If you need help call us.
Please submit your files with the fonts embedded within the artwork. In other words, do not submit your font files separate from your artwork file.
When uploading Adobe Illustrator® artwork files, please make sure you create outlines of the text and save your file before uploading.
When uploading Adobe Photoshop® artwork files, please make sure you flatten all layers and save your file before uploading.
Yes, you can download templates from our website.
Our technicians are always available to assist you during business hours. You can reach us by email or by phone at 1-949.222.2210.
Since every order is unique and specific to each customer, all sales are final. Irvine Printing does not give refunds or credit. Please consult our Conditions of Sale.